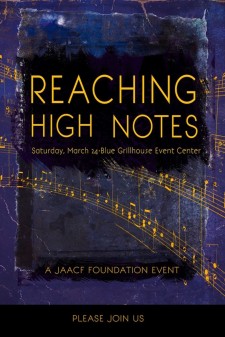 Event
•
updated: Mar 13, 2018
An evening of music, fine dining, and auction items to benefit the Judith Adele Agentis Charitable Foundation continued delivery of hospice meals, and early cancer detection education.
Dinner Gala to Benefit the Judith Adele Agentis Charitable Foundation Slated for Saturday, March 24
Reaching High Notes, JAACF's annual dinner gala will be held Saturday, March 24, from 6 to 10 p.m., at Blue Event Center.Tickets are $95 per person and include passed hors d'oeuvres and a three-course sit-down dinner, which will feature an entree of filet mignon and crab, roasted vegetables, a vegan option, and a layered opera cake.
Each guest will receive a $50 gift certificate courtesy of Lehigh Valley Jewelry Exchange. Tickets online are available at https://whennow.com/event/reaching-high-notes. Tickets are available online at https://whennow.com/event/reaching-high-notes
Musical entertainment will highlight music through the decades with the acoustics by 3 AM., during the cocktail hour.
Luxury auction items including a Fender guitar signed by all members of the Rolling Stones, will be on the auction block. A special speaker will round out the evening's offerings. After dinner, Billy Murnin and "Not Quite Right" formerly of Uproar will provide the evening with dance music.
Judith Adele Agentis Charitable Foundation was the recipient of the PA Hospice Network Heart of Hospice Award in 2014 and was awarded the Shining Star Award from St. Luke's Hospital Network that same year. In addition to meals, JAACF provides funding for early cancer detection education for pancreatic, liver and colon cancers."We depend on the generosity of local businesses, restaurants and donors," says Agentis, who has delivered 90 percent of the meals JAACF provides weekly and spends time with the family members when possible.
There are currently more than 40 participating restaurant donors to JAACF. Going forward, the nonprofit is looking to garner new and additional Lehigh Valley restaurants as annual or semi-annual donors. Interested restaurants can reach Bob Agentis at ba.jaacf@gmail.com to find out more about being part of the meal program.
For more information, visit JAACF.org; find us on Facebook; or email us at ba.jaacf@gmail.com. The mailing address for JAACF.org is P.O. Box 22075, Lehigh Valley PA 18002.
Share: